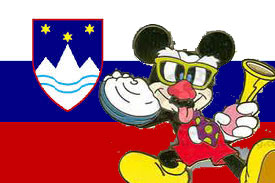 Motorist Travel Advice For Slovenia – Beware
First Published 1st September 2013 edited 2019
Avoid being victimized by the Slovenian state while traveling by car through the miniscule state, and what to do if you have fallen victim.
The tiny Slovenian state is in business to fleece motoring tourists, the Slovenian state through its highways management contractor DARS is shaking off tourists, lets cast our memory to Mafia tactics, you know, the gangster saying you owe him money or else, then asking for an extortionate amount as 'penalty'.

While making hardly any effort to inform foreign motorists entering/traveling through the tiny Slovenian Republic that they require to pay 15 Euros or so to use the Slovenian roads & highways by buying and displaying a car sticker called 'vignette', Slovenia places a great effort instead at stopping the uninformed foreign motorist and demands 300 euros penalty (2000% markup) for not knowing or they can confiscate your car for the 15 euro they say you legally owe them.
Motorists will not get a leaflet at the border informing them of the requirement, apparently they usually get the information leaflet in English after the are stopped and fined.
Thanks a lot Slovenia, naturally, most motorist victims pay the unfair penalty with credit card, however the transaction can be reversed later through a charge-back (ask your credit card company) if the credit card owner was not aware of why he was paying the money, which is frequently the case, as the DARS/Slovenian employees can hardly speak English, the English leaflet you will be handed is to make you aware of the 'service' (penalty+toll charge), best not to take it and then dispute the transaction, after all the penalty is extreme and therefore unfair plus it is not an ethical penalty if no effort has being put to make you aware of the requirement.
Ignorant, simple and often dishonest people seek to defend the unfairness and mafioso tactics with silly simplistic and uneducated statements like , 'ignorance is no excuse in the eyes of the law', proving that knowing little about legal matters is more dangerous than knowing nothing, because they lead to such stupid statements, as legal does not equate to ethical and unethical abusive laws are a travesty and not valid under jurisprudence (philosophy of law).
Repeatedly in many 'advanced' countries courts have struck down unethical and opportunistic laws, that I suspect is too much to expect from the judiciary of the 'Mickey Mouse' Slovenian state.
Laws and/or administrative practices that are unfair and seek to victimise are not legal in a state that professes to be non totalitarian modern free state.
A law that pretends to pay for public roads but has the real hidden objective of taking advantage of tourists by exploiting their lack of knowledge of local laws is unfair .
The test for fairness for any fine is proportionality, owing 15 euro unawares and being fined 20 times the original charge is obscene, I think it would be fair give a simple warning and ask you to pay the charge .
The un-proportional and extortionate fine seems to be a big revenue earner for the OARS/Slovenian state which awards the contracts to these unethical private companies.
The way the DARS Slovenian employees dress like policemen and sneakily hide behind disused toll booths or buildings and pop out suddenly clowning/acting like policemen trying to stop tourist cars, is also fraudulent, trying to pass off as policemen.
The above are the personal opinions of the author, deriving from a very short transit car visit through the Slovenian 'bordello' state in August 2013.
Please Share the above flag of Slovenia to family and friends so that we can educate and protect motorists .